Jeff Taylor – Band Leader/Trumpet/Vocals
It all started in Kansas City where Jeff Taylor was born and where at an early age he was exposed to the rich history and colors of that city's deep jazz tradition. He started gigging at the tender age of twelve with the "Al Bronson Polka Band", and by the age of fourteen began playing lead trumpet for the "Kansas City Shriner Big Band", as well as gigging around the Kansas City area during his High School years.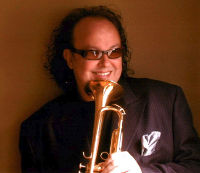 Jeff was awarded the N.A.J.E. outstanding musician award nine times during his high school and college years. Shortly afterward he was awarded the Outstanding Lead Trumpet prize at the Chicago Jazz Festival and Hawaiian Jazz Festival. He attended the University of Kansas, where he received a full scholarship in trumpet performance. He later attended the University of North Texas, where he studied with the legendary trumpet teacher Don "Jake" Jacoby. After a few years of intensive studies, the Clark Terry Big Band picked him up to play lead trumpet, which was then followed by a two-year stint of playing lead with the Maynard Ferguson Orchestra. He finally landed in Dallas, where he played with Bill Tillman (Blood Sweat and Tears) for nearly a decade. Jeff has also had the Honor of performing for former presidents Jimmy Carter, Bill Clinton, George W. Bush and Barak Obama…and his jazz trio is a regular for the Bush family's events at their Dallas home.
He started his first band as leader in 1995 performing for corporate events, weddings and for Dallas's most elite clientele, and in recent years has morphed into The TIN MAN BAND, one of the hottest cover/variety dance bands to come out of Dallas in years. Through tinkering with different players and singers, researching the most popular dance material and working with the best sound equipment, Jeff has hit on the right mix of all these elements, as well as the intangibles that inevitably construct a winning team, thereby producing The TIN MAN BAND!

Any good dance band is literally built from the ground up with one primary goal. Deliver a great party, and The TIN MAN BAND is doing that in a big way. Just ask Melisa Minto, Director of Catering and Events at Westwood Country Club in Austin. When booking a band for their annual holiday bash last December, she mentioned that in the past, getting people on the dance floor has been a difficult chore. But moments into her event featuring The TIN MAN BAND, Minto exclaimed, "I'm floating on a cloud… look at them on the dance floor! TIN MAN is awesome!" Sure enough, The TIN MAN Band's driving, high energy show had the dance floor packed all evening long. Melissa has become one of our best 'sales person'. You can ask her yourself.
There are others, as well. Just ask us for a list of references. Jeff's hard work in assembling this group of smashingly talented players is paying off big time with amazing parties all over this part of the country. And the hits just keep on coming…